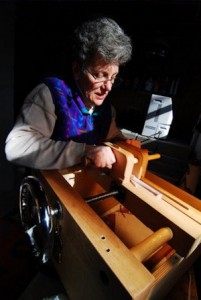 Dea Sasso established "Light of Day Bindery" in 1989 as a sole proprietorship hand book bindery. She invites students at all levels of experience to join her in class to learn about traditional 
bookbinding techniques
, book structures and boxes. She also offers a wide range of services to individuals and institutions; they include: 
new book bindings
 and 
protective boxes
, 
book repair, restoration of books and documents
, paper conservation, 
small editions
 and 
classes in all aspects of hand bookbinding
. (Further description of these classes and more bookbinding services are detailed throughout the website.)
Light of Day Bindery offers personal instruction at the bindery in 
Asheville, North Carolina
; Dea has taught and continues to teach at many of the institutions listed below including: Smith College; Harvard University; Worcester Art Museum; Northampton Guild Studio School; Becket, Dunedin, Maitland and Florida Gulf Coast Art Centers; The Augusta Heritage Program of Davis and Elkins College; Society for Contemporary Craft in Pittsburgh; Garage Annex School in Easthampton, MA; NH Guild of Craftsmen in Hanover; Snow Farm in Williamsburg, MA; BookWorks of Asheville, NC; and the John C. Campbell Folk School located in Brasstown NC, where Dea is the Resident Artist for Book Arts. View her current teaching schedule here.