Current Teaching and Bookbinding Class Schedule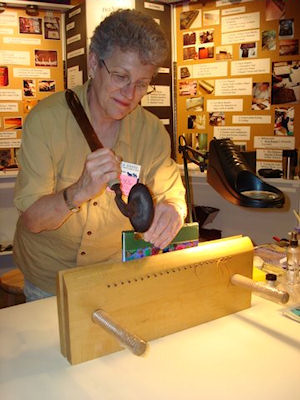 2019:
May 12-18, 2019 – John C. Campbell Folk School, Brasstown NC
Single Sheet Binding…Have you ever wanted to bind individual sheets of paper into a hardcover book? They could be computer printouts, sketches of any size, memoirs, stories, poems, letters, recipes, or simply blank pages for the next adventure of your life! Learn all the bookbinding steps, start to finish. Kerf the text, create a cover of cloth or leather, and hot-gold tool your name, title, and even decorations onto that cover. Time permitting, each student may bind three books by week's end. All levels welcome.
Sept 8-14, 2019 – John C. Campbell Folk School, Brasstown NC
Intermediate Book Repair…Bring your favorite old or damaged books (cookbooks, Bibles, children's books, and more) and learn how to repair them for long years of future enjoyment – and use. Broken joints, torn pages, bumped corners, deteriorated leather, dirty cloth, and more are suitable for this class, designed for those with basic bookbinding experience. Advanced students will be challenged by more complicated work, including cosmetic problems and gold tooling.
Oct 6-12, 2019 – John C. Campbell Folk School, Brasstown NC
Marbling Made More Manageable – Papers & Books…Marbling throughout history has been a magical process of floating colored pigments, creating patterns, and printing a single piece of paper…unique and unrepeatable. We will simplify the process, allowing you to control the variables and produce beautiful papers of your own design. Small format (11″ x 14″) will allow more time at the trough, as well as time to use papers for bookbinding projects. All levels welcome.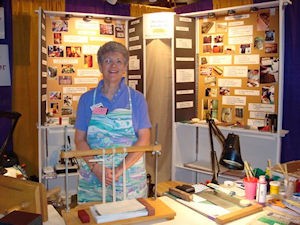 Private Lessons:
Private lessons are available at our Asheville Bindery, please give us a call for additional information.